By
Kyle Curry
on March 21, 2012



The NFL draft is just about a month away and the Steelers have some needs to fill this year. With the loss of James Farrior and little depth on the offensive line the Steelers could use some starters in the 2012 draft. Chris Kemoeatu was a cap casualty earlier this month and leaves a hole at left guard. Other positions of need are nose tackle, cornerback and running back. With Casey Hampton turning 35 later this year nose tackle is a big need. William Gay could be gone in free agency leaving little depth in the defensive back-field and with the Rashard Mendenhall injury the Steelers may look for another running back.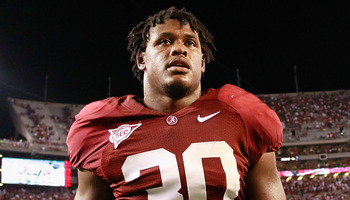 1.) Dont'a Hightower, ILB, Alabama – The Steelers are in need of a future replacement for James Farrior. However, with Hightower's ability to play both inside and outside linebacker he could take over any position in the Steelers' linebacking core. Hightower also played in a 3-4 defense at Alabama so he has familiarity with the style of defense giving him a head start.
Draft BIO (via Walter Football) - Hightower had a good season for Alabama. He was a tough, in-the-box defender and increased his splash plays. Hightower has shown the ability to be a dangerous blitzer as well. He looks much faster than he did in 2010 when he was in his first season back from knee surgery. Hightower had 85 tackles with 11 tackles for a loss, four sacks, one interception and three passes batted away this season. He had a dominant game against Tennessee and played well versus LSU. Against Georgia Southern, Hightower blocked a field goal and it looked like he was spiking a volleyball.

2.) Kelechi Osemele, OG/OT, Iowa State – With Chris Kemoeatu gone and considering Willie Colon's recent injury issues the Steelers need a player that can step in and contribute. Osemele could play at right tackle or right guard for the Steelers in 2012.
Draft BIO (via Walter Football) - Osemele had the longest arms of any prospect at the Combine or Senior Bowl. He doesn't have the foot work to stay at left tackle, but some teams could consider Osemele at right tackle as well as guard. Like Glenn, he had a fast 40 time for such a large blocker.

3.) Josh Chapman, NT, Alabama – Hampton still has a season or two left in him, but the Steelers need a replacement for the future. Chapman may miss the beginning of his rookie year due to a knee injury, but projects as a solid 3-4 nose tackle in the NFL. Chapman, much like Hampton, is a solid run defender, but not much of a pass rusher.
Draft BIO (via Walter Football) - Chapman is a quality run defender but limited as a pass rusher. He looks like a strong nose tackle candidate for a 3-4 defense in the NFL. Chapman has good technique with natural pad level. His injury could impact the beginning of his rookie season.

4.) Robert Turbin, RB, Utah State – With Mendenhall's injury the Steelers may look for a running back in the draft to be a two-headed monster alongside Isaac Redman. Turbin is a large strong running back and is a potential steal in the fourth round of the draft. Turbin also possess top of the line speed and has the ability to break tackles and run away from the defense; the Steelers haven't had a home run hitter since Willie Parker left.
Draft BIO (via Walter Football) - Turbin is a sleeper prospect who has some speed and is extremely strong. He showed that off with good speed and strength at the Combine. In 2011, Turbin averaged 6.1 yards per carry with 1,517 yards rushing and 19 touchdowns. He caught 17 passes for 171 yards and four scores as well. In 2009, Turbin broke out with 1,296 yards and 13 touchdowns. He missed the 2010 season because of an injury. Turbin is put together well and is an elusive runner.

5.) Cliff Harris, CB/PR, Oregon – The Steelers need more depth at cornerback especially if they lose William Gay in free agency. Harris has had off the field issues that have dropped his draft status, but if he convinces coaches that he can get past his, well, past he would be a steal in the fifth round. Harris also has return skills and could take the role in 2012 as Antonio Brown has been told he will be used primarily as a receiver.
Draft BIO (via Walter Football) - In 2011, Harris had nine tackles and five pass breakups. Against Arizona State, he recorded his only interception of the season, returning it 50 yards. Harris also had a 23-yard punt return versus the Sun Devils. He is a very good, man-cover corner who plays the ball well. Harris could be a boom pick if he has learned from his troubles and lands with a team that can get the most out of him.
6.) Randy Bullock, K, Texas A&M - Out of qualifying kickers (at least 25 attempted field goals in 2011) Shaun Suisham ranked 31 out of 31 with the lowest percentage of made field goals. Coming in at under 75% Suisham was a liability for the Steelers in 2011. Bullock is the top kicker in the draft and would fill a need for the Steelers.
Draft BIO (via Walter Football) - Bullock was the AP's All-American First Team selection at kicker after being one of the most accurate kickers in college football in 2011. He made 29-of-33 field goal attempts. On extra points, Bullock was 55-of-57. In 2010, he was 16-of-21 and was good on all 50 extra point attempts. The year before, Bullock made all 51 of his extra point attempts and was 12-of-19 on field goal attempts. Entering this season, his career long field goal was from 50 yards.
Related Posts